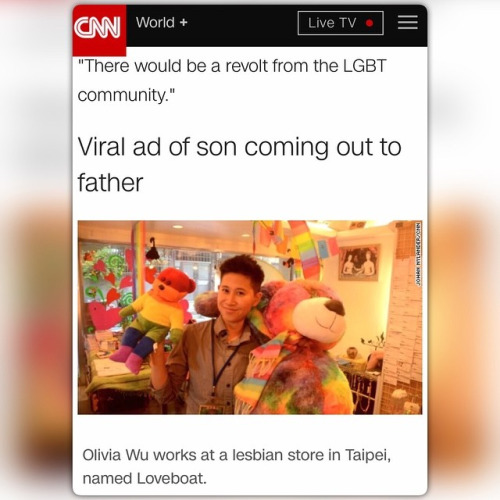 Taiwan has a large gay community and is one of the most progressive places in Asia in terms of LGBT rights.
Sex between partners of the same gender is legal, discrimination based on sexual orientation is banned in workplaces and schools, and changing one's legal gender is permitted.
Progressive? The island's annual gay pride parade is the biggest in Asia.
Now, with the more liberal Democratic Progressive Party (DPP) in power -- Tsai Ing-wen was sworn in as Taiwan's first female president in May -- expectations are high that the the island will become the first place in Asia to permit same-sex marriage.
The 59-year-old president has repeatedly spoken in support of sexual equality and LGBT rights.
"In the face of love, everyone is equal," she said in a Facebook video during last year's gay pride parade.
"I support marriage equality. Every person should be able to look for love freely, and freely seek their own happiness."
Nonetheless, many LGBT people won't come out to their parents or employers.
Homosexuality is still controversial with the older generation, and gay marriage is opposed by politically influential social conservative and Christian groups.
A poll from 2013 showed 75% of Christians opposed legalization, while a slight majority of Buddhists, Taoists and the greater public were in favor.
"I feel we have a lot of support. I would be highly surprised -- and disappointed -- if the government didn't push for this," said Olivia Wu, who works at a lesbian store in Taipei, named Loveboat.
Opened 12 years ago as the city's first store focusing on lesbians, Loveboat is today more of a community and hangout for LGBT people. There's a small café as well as healing and massage rooms. They organize debates and workshops.
Wu, who is originally from Los Angeles, stumbled upon Loveboat on a trip to Taiwan eight years ago -- and decided to stay.
"I found a new way of life here. LA's LGBT scene is more hip. Here it's more all rounded, emotional and spiritual. Taiwan is a good place," she said as she showed me around the small shop, which sells everything from chest binders and sex toys to LGBT literature.
Asked if she would like to get married should the law change, she offered the same answer many do: It's about finding the right girl.
"For me, I actually don't find it important to get married," she said. "What is important, however, is to have the right to get married."
Read Full Article on CNN