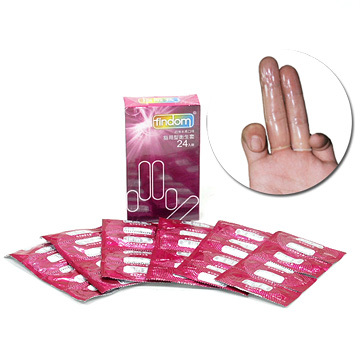 Findom Finger Condom 24pcs
[ STYLE ] Fruit essence findom
[ SIZE ] Length:80±2mm Width:28±2mm
[ LUBRICANT ] Silicone Oil
[ COLORS ] Transparent
[ FEATURES ] "Safe sex" has been a key concept advocated in the general sex education, and wearing a condom during sexual intercourse has been proven to be effective in preventing pregnancy and sexually-transmitted diseases (STD).
However, during the process of foreplay or masturbation, fingers often come into contact or penetrate the vagina or anus for added pleasure or to induce orgasm. This poses several health problems. First of all, the dirt hiding inside of finger nails may cause infections. Secondly, the fear of scratching or injuring the skin of the vaginaor anus causes discomfort. findom® uses natural latex with added surface lubricantto solve your problem by tightly wrapping a layer of protection over your fingers, so everyone will be able to enjoy the pleasure of finger intercourse even for women suffering from insufficient vaginal discharge.
[ USAGE ] Sex is full of fun,and need more confidence , if you have take time to read these instructions, you will find sex is so relax and full of fun.
1. Check the expiry date on the findom package before you use.Tear the wrapper open from the serrated edge and handle the findom carefully see picture 1 .
2. Check the findom roll is on the outside, and roll it down on your fingers. see picture 2.
3. After using findom lust take the findom off, wrap it in a tissue and put it in the bin.Please don't flush it down the toilet see picture 3.
[ NOTE ]
1. The findom is for fingering sex, it doesn't have pregnancy ability.
2. The findom is made by natural rubber latex, with non-spermicidal lubricant, maybe cause sensitive or allergic. Please stop using findom and get advice from your doctor.
3. Once open, use it immediately.
4. If you need more lubricant , we suggested you don't use oil-based ones, like petroleum jelly, baby oil .. .will damage the findom.Please use water affinity lubricant.
5. Use a findom only once.
6.Store in cool indoor, avoid hot area and direct sunlight.
Customer comments
| Author/Date | Rating | Comment |
| --- | --- | --- |